Finding a new species could be easier than you think
Maybe you find interesting, as I certainly do, to read in the news that a new species has been discovered somewhere in the World. We recently witnessed the surprising and unusual finding of a new, beautiful monkey in Congo: the lesula (Cercopithecus lomamiensis), and you may also remember to read, even in the non-scientific press, about bizarre animal findings like the psychedelic frogfish (Histiophryne psychedelica) that lives in the Indonesian coral reefs. New taxa lovers would also probably know the top ten ranking of new species that is annually released by the International Institute for the Species Exploration, inspiring our admiration with the most surprising organisms that one could imagine.
Reading the kind of news previously mentioned will probably yield to a biased conception of new species discovery as an event that only happens in exotic, inaccessible locations, such as the tropics and performed by professional biologists with enough funding and proved expertise. If you share this opinion, a recent paper published in PLoS ONE 1 is going to surprise you. A large number of researchers from different European institutions have joined to analyze real data about who and when discovered all the animal species recorded at the huge Fauna Europaea database (comprising more than 140.000 accessions).
One of the basic objectives was to plot different cumulative curves of the number of species known to Science versus time since the very beginning: 1758, the date of publication of Linnaeus' Systema Naturae, the starting point of biological taxonomy and nomenclature. A typical cumulative curve of this kind would show a pattern similar to the one we would find if we want to make a collection of the different euro coins, keeping them from our daily life. At first, most of the coins we can find will be new for our collection, and the curve would show a very steep slope. When the most common coins are already in the collection, it becomes gradually more difficult to find new ones, and the pace of our findings will slow down. If we continue our pursuit during a long time, the cumulative curve will reach an almost flat tail, when only by chance (or after a thorough search) a new, very rare coin, would be added to the count. The actual number of coin types would behave as an asymptotic limit if we want to model this kind of graph. Several sampling activities within Life Sciences show similar patterns and estimating the height of that asymptote is possible if we study to the shape of the curve. That is exactly what the authors did.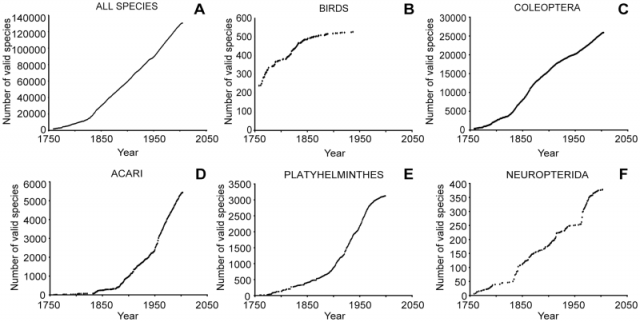 The results turned out to be rather surprising. After centuries of taxonomic research, Europe is arguably the continent with the most studied fauna, but it seems that we are still far from having a complete idea of the zoological diversity of our continent. The cumulative curve for all the European species (fig. 1A) still keeps the steep slope that characterizes the early stages of biodiversity exploration without sign of depletion. Maybe Europe is not within the tropics, but it still harbors a massive amount of undiscovered species! Naturally, not all the different animal lineages show the same potential for species seekers. Some groups, like birds (fig. 1B) or dragonflies, are already very well sampled and their curves show the expected flat tail suggesting that very few (if any) new species will be discovered in Europe in the future. This is understandable: these are eye-catching animals, relatively easy to detect, and not especially diverse, compared with other organisms. On the other hand, beetles (fig. 1C), mites (fig. 1D) or freshwater fishes are just some of the many groups whose rate of new species discovery has remained constant, or even increased, during the last century. This not only means that biologists are not yet done with these animals, but also that getting close to the final figures will take a lot of research. Finally, other taxa like flatworms (fig. 1E) or lacewings and allies (fig. 1F) show more complex patterns caused by irregular or lacking taxonomical effort.
The other main issue that the authors addressed was about who discovered the species. For this purpose they defined two categories of taxonomists: professional taxonomists (researchers, professors or graduate students who are paid for their taxonomic work) and non-professional, "amateurs" taxonomists, (who work in any other field and perform taxonomy during their leisure time). Interestingly, non-professional taxonomists have been responsible of a very significant portion of European zoological description during the 1998-2007 period and not just for charismatic, eye-catching animals, but also for inconspicuous invertebrates too (fig. 2).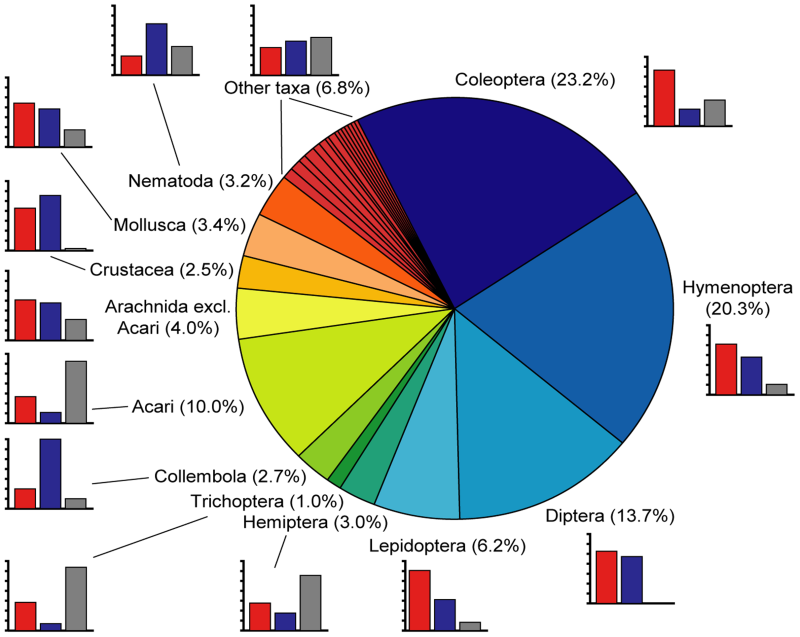 In addition to the relevance of the results, I think this study should make us reconsider the clichés mentioned at the beginning of this post. It is not necessary to travel far away to bump into an undiscovered animal species: you can virtually do it on a daily basis, at your backyard, during a hike or the next time you go fishing. Of course, the tricky part is not just finding by chance an unnamed species, but being aware of it! Taxonomy is not an easy, straightforward task! Nevertheless, the remarkable contribution of amateur taxonomists along history should also encourage any potential biodiversity explorer: you do not need to travel to a rainforest or to a coral reef and you do not need to be a professional biologist; taxonomy will require a lot of patience, training and meticulous observation, but the truth is that joining one of the most gigantic challenges of the history of Science may be more accessible than people think.
References
Fontaine B, van Achterberg K, Alonso-Zarazaga MA, Araujo R, Asche M, et al. (2012) New Species in the Old World: Europe as a Frontier in Biodiversity Exploration, a Test Bed for 21st Century Taxonomy. PLoS ONE 7(5): e36881. doi:10.1371/journal.pone.0036881 ↩