Jabberwocky, or the poetry of function words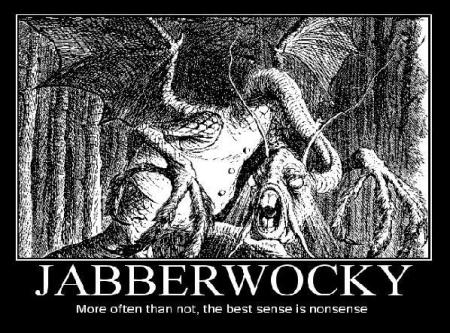 Jabberwocky is the title of a famous poem by Lewis Carroll[1], a poem very much liked by linguists because it beautifully illustrates the crucial role that function words play in language. Function words are the little words no one pays much attention to, although they are the true keepers of grammar. In fact, language cannot exist without them. Let us remember how Jabberwocky begins:
'Twas brillig, and the slithy toves

Did gyre and gimble in the wabe;

All mimsy were the borogoves,

And the mome raths outgrabe.
A striking property of this poem is that, although we do not understand most of the words in it, still we understand much of what it tells. How can this be? Quite simply, because all of the function words in the poem are real English words: "it was …, and the … …s did … and … in the …; all … were the …s, and the … … out…" These little words provide a lot of semantic information, and they also allow us to easily guess what grammatical categories the nonsense words belong to. For instance, we know that "brillig" and "slithy" are adjectives, and we also know that "tove" and "borogove" are names, and "gyre" and "gimble" verbs. The full meaning of those words eludes us, but the grammatical scaffold set by the recognizable function words allows us to make sense of the propositional structure of the poem, identifying nonsense words that speak of entities, properties and events. Very importantly, function words tell us how they are related. For instance, reading the first stance we know that whatever "toves" are, they can be counted and they are several, they have the property of being "slithy" and they do something, namely they "gyre" and they "nimble", which is something they do on their own, and not something they do to other entities. There is something else you know as well: the events described here happened in the past. So, if you pause to reflect a moment, you will see there is a lot of sense in this nonsense poem.
Function words are the hallmark of human language. When people lacking a common language start using a pidgin to communicate, they drop function words. Conversely, when children growing in a pidgin environment develop a true language, what emerges is a repertoire of function words that brings a grammar with it 1. Some animals have been able to learn words from human languages, but none has been able to grasp function words 2. Some primate vocalizations appear to involve certain word-like elements, but nothing resembling function words 3. Although function words are a universal property of human language, not all languages have the same set of function words. For instance, English and Chinese do not have agreement or case markers, Japanese and Turkish have case markers but no agreement, Basque has both agreement and case markers. According to some cross-linguistic research, languages differ because they differ in the sets and properties of functional words, that is, functional words determine the properties of a given grammar 4.
Function words are said to belong to a "closed class" items, in opposition to the "open class" of content words, because it is easy to bring new elements into the open class, while it is hard to bring new elements into the closed class. To see this, take Jabberwocky again. All the nonsense words are content words, belonging to the open class. You can take those out and insert new ones of your choice and the residual meaning of the poem remains unaffected. However, try substituting the function words by new ones you invented. No meaning remains. When we look at language change through time, content words come and go changing very fast, while function words change very slowly. Vocabulary changes in the open class do not much change the grammar but changes in function words bring with them significant changes in the grammar.
A big part of learning a language involves learning the functional repertoire, and, at least for adults, this is usually the hardest part to learn. Detecting function words is a crucial step in language acquisition in childhood; a few sad cases of humans not exposed to language before puberty reveal that past a certain age, function words can no longer be learned 56. People exposed to their first language past puberty only learn content words like "house", "see", "girl", and do not master verb inflections, questions, passives and the rest of tricks of grammar, because they depend on learning function words.
If one knows what to look for, there are a number of telltale signs for function words in the speech stream: Function words alternate with content words; in English, for instance, nouns are usually preceded by determiners like a, the, some etc., and verbs are often preceded by auxiliaries or followed by suffixes like –ing, –ed. Function words tend to be shorter and unstressed 78. Function words are a small set of word types, but each generally occurs highly frequently 9. This contrasts with content words, which are vast in the number of types but each occurs far less frequently.
Studies reveal that infants start recognizing function words already during the second semester of life [2]. English learning babies can recognize the function word "the" at eight months; at eleven to thirteen months babies can tell if function words have been replaced by non-words in speech 10; during this time, babies use frequent frames made of function words to categorize new content words 11. Infants use these frequency cues to distinguish function words from content words in speech, and it seems that they are equipped with a mechanism leading them to treat frequent syllables as less referential than infrequent syllables, revealing they know something about their relational meaning as well. Although function words are often depicted as having "no meaning" they do carry meaning, but of a different kind from natural classes like "apple" or "song". Think about it: what is the meaning of the words "any", "would", or "whether"?
By now, you might feel like Alice after reading the Jabberwocky poem: «"It seems very pretty," she said when she had finished it, "but it's rather hard to understand!" (You see she didn't like to confess, even to herself, that she couldn't make it out at all.) "Somehow it seems to fill my head with ideas—only I don't exactly know what they are! However, somebody killed something: that's clear, at any rate».