Ceci n'est pas un éléphant
In the basement of the Prado Museum, Madrid, there is a small yet astonishing group of fresco paintings that do not receive as many visitors as other masterpieces of the collection. They were painted in the 11th century by an anonymous mozarab artist and configure a set of hunting scenes and wild animals. One of them depicts, in a charmingly naïve style, a beautiful, magnificent and powerful elephant. It is difficult not to be moved by this image.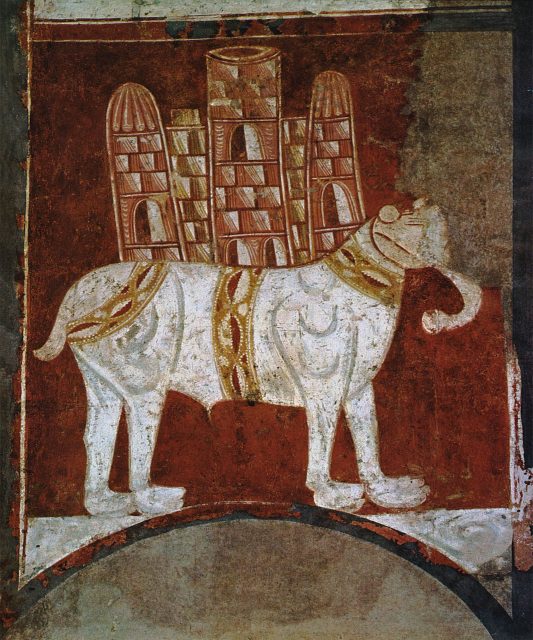 The elephant, together with its companions, decorated the humble shrine of San Baudelio in a remote village of the Soria province (Central Spain) until they were irregularly sold in 1917 to an American art merchant, amputated from the shrine, transferred to canvas and shipped to the United States. Whereas some of the frescoes still remain in several American institutions (I strongly recommend you to admire the dromedary in The Cloisters of the Metropolitan Museum in New York City, if you have the opportunity), the Spanish government exchanged some other medieval pieces of art in order to recover these unique paintings in 1957 and exhibit them in the Prado.
The reason why I feel an overpowering attraction to these paintings is because I like to think about its original setting and the significance they probably had to the people that enjoyed them in situ: incredibily, during more than 800 years, the inhabitants of a lost Castilian village with freezing winters and thousands of kilometers away of any real elephant could actually see the image of a pachyderm, probably inspiring and making them daydream of faraway countries generation after generation. I even doubt if the artist himself witnessed any elephant during his life or if he just tried to reproduce the description of some traveler (as Dürer did with his also famous rhinoceros) or followed his imagination inspired by classical stories such as Hannibal's campaigns. In the Internet era, we tend to forget that something as simple as knowing how an elephant looks like was not accessible for a regular European until relatively recent times, and the knowledge, even of iconic organisms such as elephants, depended on verbal descriptions or unreliable sources. Accurate knowledge of exotic organisms was not a straightforward issue, but it was essential to endeavor a truly scientific description of the Earth's biodiversity.
It was probably in 1735 when a young Swedish naturalist traveling within Europe could see for the very first time in his life an actual elephant. He had certainly heard about this mammal and probably seen pictures of it, but this would be the first opportunity to observe one "in flesh and blood"… so to speak. The animal was actually a dead elephant fetus belonging to the collection of a rich Dutch pharmacist called Albertus Seba. The young Swedish adventurer was Carolus Linnaeus, the father of taxonomy. After Seba's death, the Swedish monarchy purchased part of his collection in an auction in 1753, including the elephant. Linnaeus, who had access to that collection, would write to a friend: "I am pleased that the little elephant has arrived. If he costs a lot, he was worth it. Certainly he is as rare as a diamond".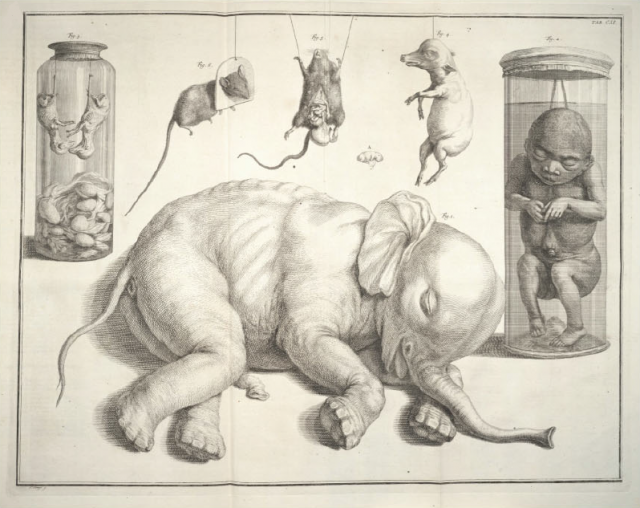 The description of this specimen is relevant to us because it was included in the 10th edition of Linnaeus' Systema Naturae 1, a significant milestone in the history of Zoology. This work tried to describe and classify all the animals that existed (quite an ambitious project, no doubt), but more importantly, it is still regarded as the starting point of zoological nomenclature. The distinction between taxonomy and nomenclature deserves to be taken into account since both aspects of biology are often confusing to many people.
Taxonomy aims the classification of living organisms (into species, genera, etc). The good taxonomy should provide adequate descriptions and hierarchical groups consistently based on the homology of characters. Since the pure taxonomy and the criterion of homology acquired its evolutionary dimension (thereafter called "systematics"), we also expect these groups to have a phylogenetic meaning. Nomenclature, on the other hand, is no more (and no less) than a normative code aiming to assign names to these groups. The good nomenclature does not need to give beautiful or convenient names; what is important is that the names of the groups are unambiguous and that all the scientific community uses them knowing exactly what they are referring to. Each discipline has its own tough objective, they are different and they have different methods. Taxonomy changes frequently when we discover more precise relationships among organisms or when we discover new species. Nomenclature, on the other hand, needs to be consistent with taxonomy (and thus, is slightly flexible), but at the same time it must remain as stable as possible to minimize the number of names, confusions, multiplicities and synonymies, even in spite of mistakes within taxonomy itself! We do not care if the oak Quercus canariensis was never found in the Canary Islands (as its name suggests) as long as any botanist in the world knows exactly what we are talking about. Names are essential for communication, but they are not the meaning of the word they refer to, they are a lifeless label, but we expect from a scientific nomenclature a precision that it is hard to achieve with millions of species of organisms and thousands of biologists working at the same time: biological nomenclature can also be a nightmare, even in spite of (or maybe as a consequence of) their strict normative codes.
One of the nomenclatural practices that was eventually adopted by biologists for the stability's sake was the designation of type specimens. To make a long story short: whenever a biologist describes a new taxon, he must designate a reference voucher (the type) and deposit it in a museum, herbarium or institution. The name (the "label") becomes permanently attached to that specimen. Whatever happens later with further taxonomical research, the name will remain "stapled" to that particular specimen: if it turns out that the "species" that the name labels is actually an admixture of two cryptic species, the name will remain attached to the species that the type specimen belongs to, and you will need to find a new name for the other one; if it turns out that the designated type belongs to an already described and named species, the name becomes a mere synonym that cannot be used again, etc. The type specimen is not necessarily the best representative individual for that taxon at all, and despite its name it is completely unrelated with any kind of "typological" thinking, classification philosophy or species concept. The type is only the reference for the use of a name, and in fact, sometimes there have been terribly inadequate choices, but taxonomical nomenclature is maybe the biological discipline that makes scientists and attorneys adopt similar behaviors: keep calm and stick to the code.
Back to our story, in the 10th edition of Systema Naturae, Linnaeus' concept of elephant received its scientific name: Elephas maximus. Linnaeus cites for its formal description a number of drawings and texts together with the elephant fetus that the king of Sweden purchased, and all of them have validity as type material (called then "syntypes"), according to the International Code of Zoological Nomenclature. Linnaeus, however, overlooked a very important detail: there are Asian elephants and African elephants, and they are very different. If we study the drawings and texts that Linnaeus cited back in 1758 we can easily conclude that Linnaeus (like most Europeans) indeed did not distinguish both kinds of elephants! More importantly: while he states as classic locality for his Elephas maximus the island of Ceylon (modern Sri Lanka), Seba's elephant had probably an African origin (although, unfortunately, you cannot identify with confidence an elephant fetus). This is what we call a "composite type series".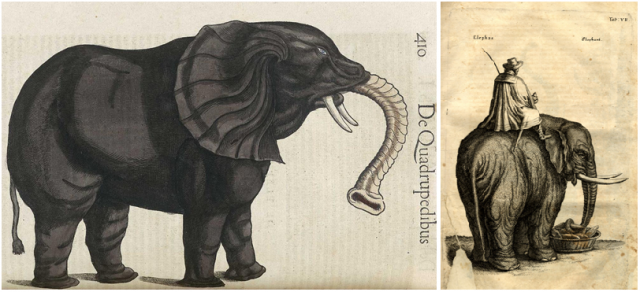 Because the type locality is Asian, eventually it was concluded that Elephas maximus was the proper name for the Asian elephant, while the African species were formally described in 1797 (Elephas africanus, the African bush elephant) and 1900 (Elephas cyclotis, the African forest elephant) and later transfered to the genus Loxodonta (Loxodonta africana and L. cyclotis respectively). To prevent a nomenclatural nightmare, only the Asian items of the composite type series of Elephas maximus are right types of this species
Although no taxonomical problem remains from Linnaeus' misconception, zoologists do not enjoy the idea of having as a type series of one of the biggest mammals on Earth a mixed collection of pictures and an uncertain fetus conserved in a jar. A joint effort 2 of 18 scientists from 12 different institutions in three continents decided to end this situation using techniques of old proteomic analysis3 and old DNA sequencing4 combined with detective skills.
The first step was to unambiguously identify Seba's elephant, which was deposited in the Swedish Museum of Natural History (Stockholm), and whose whereabouts could be perfectly tracked back to Linnaean times thanks to the detailed documentation of the collection inventory. The specimen "was gently removed from its jar and laid on a tray", and a small fragment of oesophagus, together with two rib terminal portions were removed for analysis, and the little elephant placed back to its spirit bath, hopefully for many centuries.

All the evidence collected after the morphological and molecular studies on this specimen assigned it to Loxodonta (African elephant).
Comparatively longer ears, and the typical trunk morphology of African species
β/δ haemoglobin subunit with a typical Loxodonta glutamate aminoacid in position 52 instead of the aspartate characteristic of Elephas
Mitochondrial DNA regions matching the sequences of a clade of African elephants inhabiting the areas where the Dutch West India Company conducted its African activities back in the 17th century.
As a consequence, it can be determined now that this specimen is an African elephant, and thus cannot be used as a type of Elephas maximus (it belonged to the "wrong side" of the composite type series).
Now what? The Asian pictures and documents cited by Linnaeus are still valid as the type of Elephas maximus, but it is certainly a suboptimal solution. The nomenclatural code allows in these circumstances to designate a new type specimen (neotype) to keep the name stable and help taking decisions if new taxonomical changes are decided in the future. However, if a type can be designed using the author's original specimens it should be preferred to a completely new one (we call it a lectotype then). The second part of this study was focused on finding a suitable lectotype for Elephas maximus at it involved a meticulous scrutiny of all the references cited by Linnaeus when he published the name of the Asian elephant. And it was successful.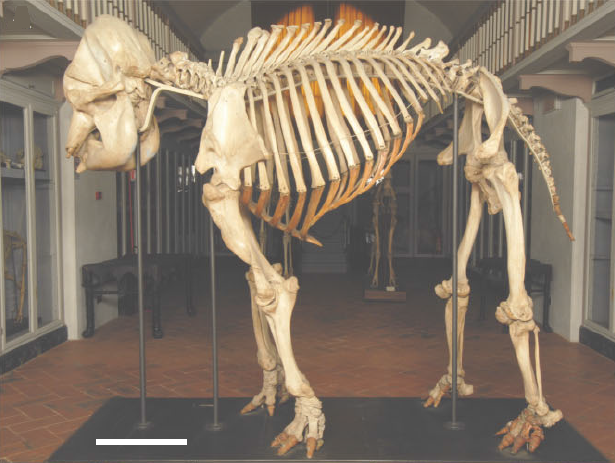 One of those references was a zoological treatise by John Ray, English naturalist, in which he describes in detail an elephant skeleton he observed in Florence during the summer of 1664. In the Italy of the 17th century, an elephant was not something that goes unnoticed, and it turned out that the presence of this animal was indeed recorded with surprising detail. The archivists concluded with rather high confidence that this particular elephant (named at the time as "Hansken") was probably brought to Europe in 1630 as an itinerant performing attraction, visiting several countries (it was even portrayed by Rembrandt in 1637 in Vienna!) and dying in Florence in 1655. Its skeleton was then mounted and exhibited first in the Uffizi Gallery (where Ray observed it), and relocated in 1771 to the current Natural History Museum of the University of Florence, where it is still kept in perfect state of conservation. Anatomical and DNA sequencing analyses unambiguously conclude that, yes, it was an Asian elephant. Thanks to the detail of the historical records and Ray's description, an elegant lectotype could be designated from the original Linnaean references, avoiding future nomenclatural complications. What makes this story even more impeccable is that Hansken was captured in Sri Lanka, and thus even the type locality does not need to be changed.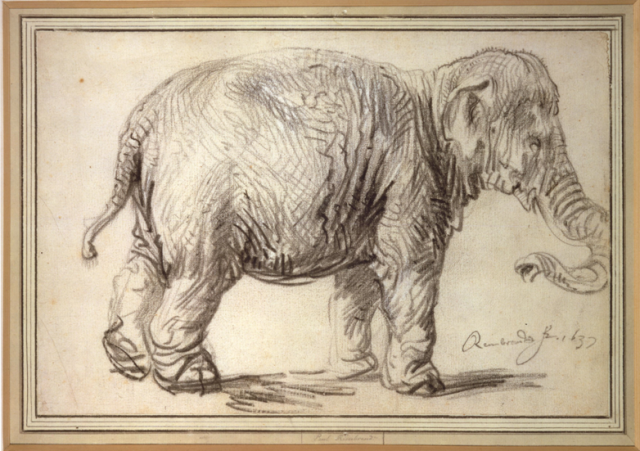 This is a beautiful work that found a neat solution to a nomenclatural conflict combining the state of the art of old protein and DNA analysis with the secular tradition of curation of Natural History collections. It is also a good example of the difference between taxonomy and nomenclature: the consequences of this particular composite type series never affected our taxonomical understanding of Asian and African elephants (the species themselves), but the proper and consistent use of the nomenclatural code. Precise names are essential for communication among scientists, although the signifier and signified should never be confused. Type specimens are used as a tool for keeping names' stability, but do not have an intrinsic taxonomical meaning.