Mandela was right: the Foreign Language Effect

Nelson Mandela was an extraordinary man with an extraordinary talent for negotiation. He was also an outstanding public speaker. Among the many words of wisdom he left behind, there is this piece of advice for negotiations:
"If you talk to a man in a language he understands, that goes to his head. If you talk to him in his language, that goes to his heart."
So strongly did Mandela believe this, that he learned Afrikaans during his time imprisoned in Robben Island. The identification between Afrikaans and Apartheid was so strong that many activists were deeply offended when they heard Mandela speaking it to the white warders. But Mandela was right. So much so that his linguistic approach to negotiation might have given him an edge in his initial secret meetings with de Klerk. Mandela might have had a small advantage over his opponent when they negotiated in de Klerk's native language. He unknowingly benefited from The Foreign Language Effect.
Would you make the same decisions in a foreign language as you would in your native one? Keysar, Hayakawa and Sun Gyu from the University of Chicago asked this question, and found out that the answer is "no": our deeply rooted and irrational aversion to loss disappears when a problem is presented in a foreign language; we respond in a cooler, more rational way 1.
Our decisions are affected by a wide variety of seemingly irrelevant factors. One is our dislike to lose what we have, a dislike so strong that it wins over the pleasure of gaining something we did not have before. The Asian Disease problem illustrates this bias in our decision making. This is the situation we face:
Recently, a dangerous new disease has been going around. Without medicine, 600,000 people will die from it. In order to save these people, two types of medicine are being made.
Here is the problem framed in terms of losses:
If you choose Medicine A, 400,000 people will die. If you choose Medicine B, there is a 33.3% chance that no one will die and a 66.6% chance that 600,000 will die.
And here is the problem framed in terms of gains:
If you choose Medicine A, 200,000 people will be saved. If you choose Medicine B, there is a 33.3% chance that 600,000 people will be saved and a 66.6% chance that no one will be saved.
Which medicine do you choose?
Although the number of certain deaths is the same in both versions of the problem, people take the safer option (medicine A) more often when survivors are mentioned, and they take the riskier option (medicine B) when deaths are mentioned. So, when the same choice between A or B is presented in terms of losses (if you choose A, X people will die) or in terms of gains (if you choose A, X people will live), we are much more likely to choose B in the first case but A in the second 2.
Keysar and colleagues presented the Asian Problem to three groups of university students: (a) a group of 121 native speakers of English who had Japanese as a foreign language, which they had studied in school for an average of three years; (b) 144 native speakers of Korean who had English as a foreign language, which they had studied in school for about a decade; (c) 103 native speakers of English who were studying in Paris, had French as a foreign language, which they had studied previously in school for about six years. Participants were randomly assigned to either the native- or the foreign language condition, and to either the gain or the loss frame, and their task was to choose between the two medicines.
The results clearly showed the loss aversion effect at play when participants responded in their native language. But surprisingly, when they engaged in their foreign language, the loss aversion effect disappeared, and participants were now equally likely to choose the safer or the riskier option.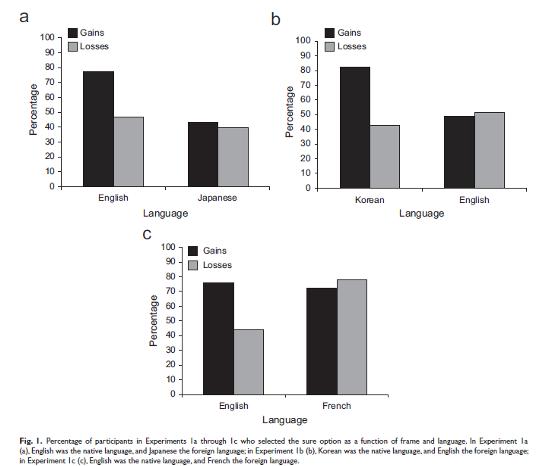 The authors interpret this result as evidence that engaging in a foreign language increases psychological distance and promotes deliberation, mostly because of a reduction in emotional resonance. This does not mean that we become more or less risk seekers depending on the language in which the problem is presented, but rather that, whatever our decision, it is more affected by the way the problem is framed when presented in our native language than in a foreign one. That is to say, our emotions are not as strongly tied up in a foreign language, and we can think in a cooler, more detached and logical way.
This original finding has been pursued further by Costa and collaborators in a recent study of about 700 participants who were tested on different types of decision making problems3. In the first study, they replicated Keysar et al.'s (2012) results on loss aversion bias. In the other three studies, they explored whether the Foreign Language Effect was limited to emotion-related decision biases. What they found is that the Foreign Language Effect is pervasive in making our decisions less prone to intuitive biases. They also found that this effect only emerges when emotion is a key causal factor in the decision bias. When problems are not emotionally laden, the language effect disappears, which gives support to the idea that the foreign language effect is at least partially due to the emotionality produced by a given problem combined with a weaker emotional resonance of the foreign language.
So back to Mandela, and his negotiations with de Klerk in Afrikaans: Was the Apartheid an emotion laden problem for these two men? Yes, indeed it was, strongly so. And out of the two who was engaging in the cooler, more analytical and rational thinking mood? Mandela was, because he was not talking in his native language. A myriad of other factors at play, no doubt, but Madiba had the Foreign Language Effect on his side.
References
Keysar, B., Hayakawa, S., & Sun Gyu, A. (2012). The foreign language effect: Thinking in a foreign tongue reduces decision biases. Psychological Science, 23, 661–668 ↩
Tversky, A., & Kahneman, D. (1981). The framing of decisions and the psychology of choice. Science, 211(4481), 453–458 ↩
Costa A., Foucart A., Arnon I., Aparici M. & Apesteguia J. (2014). "Piensa" twice: On the foreign language effect in decision making, Cognition, 130 (2) 236-254. DOI: 10.1016/j.cognition.2013.11.010 ↩