On the quantum theory of consciousness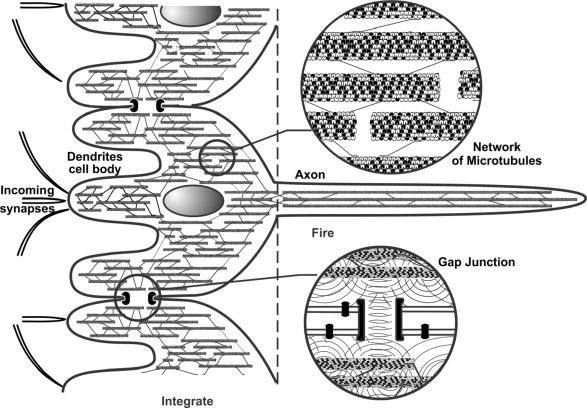 The Penrose–Hameroff theory of orchestrated objective reduction (Orch OR) claims that quantum computations in the brain account for consciousness 1. The communication among neurons by the secretion of neurotransmitters is based on synaptic vesicles distributed along their axons. The neuronal cytoskeleton has a key role in the dynamics of these vesicles. In the 1990s, Stuart Hameroff, psychologist at the University of Arizona, Tucson, USA, and Roger Penrose, mathematical physicist at the University of Oxford, Oxford, UK, proposed that microtubules, the smallest units of the cytoskeleton, are channels for the transfer of the integrated quantum information responsible for consciousness.
The cell cytoplasm is like an over-crowded dance floor at disco. The cytoskeleton strongly interacts with water molecules, metabolites, and moving proteins (like kinesins). These interactions are structural, signaling, and sometimes to orient the internal cytoskeleton. There is no known mechanism for protecting microtubules (rigid tubes made of the tubulin protein) from decoherence, the environmentally-induced destruction of quantum coherence, the unavoidable coupling of a quantum system with the environment. Quantum computing requires quantum coherence in order to use superpositions of quantum states to solve certain problems much more quickly than its classical counterpart. Without a protecting mechanism, the role of quantum computation in microtubules in the emergence of consciousness recalls to me water memory, Benveniste's proposal to explain the mechanism by which homeopathic remedies work 2.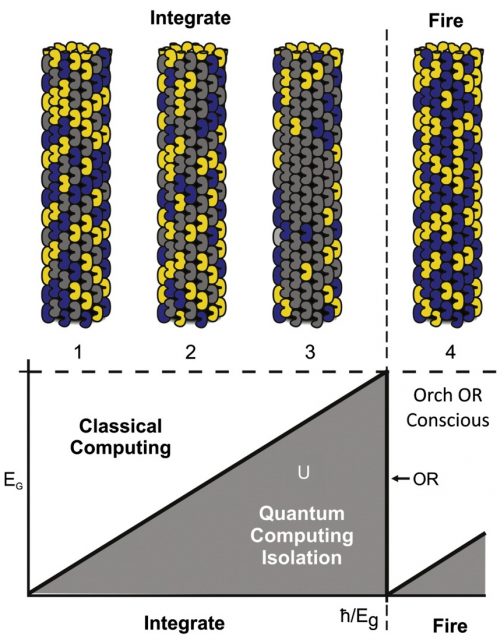 Hameroff's ideas in the hands of Penrose have developed almost to absurdity. There is no justification to the incorporation in the Orch OR theory of consciousness the Diósi–Penrose scheme for objective reduction of the quantum state 34. The tentative role of gravity in quantum state reduction (the so-called wavefunction collapse), by means of the Schrödinger–Newton equation, only introduces noise in the presentation of the Orch OR theory and distracts from its most important points. I will not discuss here the ideas of Diósi–Penrose explaining quantum measurements by means of the instability of quantum superpositions involving significant mass displacements.
The prevalent scientific view is that consciousness emerged as a property of biological organisms during the course of evolution. It is a beneficial adaptation that confers a survival advantage to conscious species. However, Orch OR theory claims that consciousness is an intrinsic feature of the action of the non-computable universe. Because humans are capable of knowing the truth of Gödel-unprovable statements, the Penrose–Lucas argument states that human thought is necessarily non-computable 5. However, the computational power of a quantum computer is exactly the same as a classical one, as proved in 1985 by Oxford University physicist David Deutsch. Quantum Turing machines are equivalent to (Classical) Turing machines, even if certain NP problems can be made efficient using quantum algorithms. In my opinion, to recur to the 'magic' of non-computability is not the best route to a scientific solution of the problem of consciousness.
Microtubules are part of the cytoskeleton of all eukaryotic cells, however consciousness is the result of neurons in the cerebral cortex. Microtubules are cylindrical polymers of 25 nanometers in diameter made of tubulin dimers, composed of alpha and beta monomers in a helical pathway. In 1982, Hameroff and Watt 6 suggested that tubulin dimers act as dipoles representing information (classical) bits of information. Microtubules act like two-dimensional Boolean switching matrices in a cellular automata. Early versions of Orch OR theory proposed a quantum version of these ideas: tubulin dimers acting as qubits (quantum bits). A beautiful theory killed by an ugly fact.

Experimental results by Jeffrey R. Reimers et al. 7, and others8, have shown that microtubules can neither sustain long-lived quantum states nor support quantum information processing associated with tubulin dimers as qubits. The whole set of original ideas by Hameroff and Penrose have been killed by Nature. There is no quantum coherence over the required time scale. Electronic motion in tubulin dimers is in the range of 10 fs to 30 ps, while Orch OR theory needs quantum coherence on the 25 ms timescale. Without a decoherence protection system, similar to the one used in photosynthesis, quantum computing in microtubules is not plausible.
If your theoretical ideas are refuted by experiments, don't worry, be happy, you only have to change your theory in order to escape current evidence. Hameroff and Penrose confess that the early version of Orch OR theory, published mainly from 1996 to 1998, is only a schematic cartoon version where tubulin dipoles act as qubits 9. In an effort to perpetuate the Orch OR model against experimental evidence, the new version of the Orch OR theory [1] uses as qubits the so-called 'quantum channels' (helical dipole pathways within the microtubule lattices). The helical pathway, akin to a 'topological qubit', was introduced in 2002 into Orch OR theory, after the structure of tubulin was elucidated by electron crystallography. Topological quantum computation in the brain appears to be a very suggestive approximation to the problem of consciousness. But the analogy between the quantum braids proposed in topological quantum computation in 1997 and the helical pathways of the Orch OR is extremely difficult to see for a physicist and computer scientist like me.
In my opinion, the new version of Orch OR theory, using as qubits the mesoscopic helical pathways of many tubulins in microtubule lattices, is even more unbelievable than the early version. Extraordinary claims require extraordinary evidence. Reimers et al. [6] states that Orch OR theory cannot be treated seriously without a precise description of the quantum states of the qubits, how these states become entangled, and a means of achieving quantum coherence over the required time scale.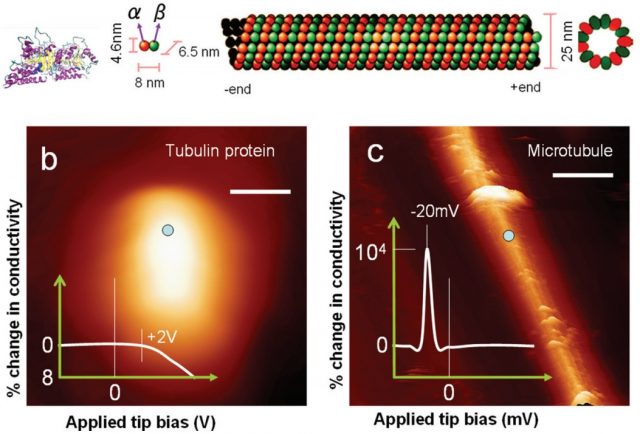 Like the claimed scientific evidence supporting homeopathy, Hameroff and Penrose [1] highlights the apparent quantum coherence up to 100 microseconds in single microtubules measured at warm temperature by the research group of Anirban Bandyopadhyay at the National Institute for Material Sciences in Tsukuba, Japan 1011. They claim that these results provide the first experimental validation of the Orch OR theory. However, Bandyopadhyay et al. 12 have measured quantum coherence in microtubule nanowire with and without water inside its channel. The changes of the coherence time between both cases are so small that I suspect that they are the result of some systematic errors not taking into account. Moreover, the claim of Hameroff and Penrose [1] that the measured coherence time is 250 times briefer than the 25 ms invoked for Orch OR events appears as pure numerology. Recall that the 25 ms signal corresponds to the 40 Hz gamma waves recorded in neural activity by using electroencephalography during some conscious perception experiments. I must recognize that my opinion is biased, but the yet to be reproduced results of the group of Bandyopadhyay reminds me Benveniste's water memory.
The crucial validation or falsification of Orch OR theory must come from experimentation. The current "gold standard" in neuroscience is fMRI (functional Magnetic Resonance Imaging), but its spatial and temporal resolutions are not enough. Orch OR theory has been criticized repeatedly since its inception. Hameroff and Penrose admit that their brain's microtubules at the interface between neurophysiology and quantum gravity are very speculative. They explicitly write that "the actual mechanisms underlying the production of consciousness in a human brain will be very much more sophisticated than any that we can put forward at the present time, and would be likely to differ in many important respects from any that we would be in a position to anticipate in our current proposals" [1].
Quantum biology is a hot topic, but its role in light harvesting in photosynthesis, magnetoreception, enzyme catalysis, or even DNA mutations, is far away from that in Orch OR theory. To be a detailed, testable, falsifiable, and reasonably rigorous approach to a theory of consciousness a new and mature version of the theory is needed. In my opinion, Orch OR is not a promising route to the nature of consciousness. Life is born out of "warm, wet & noisy" systems. Consciousness is like the Schrödinger's cat of neuroscience.