Hey, white man! Just take care of your skin!
Authors:
Bárbara Hernando studied Biotechnology at the Polytechnic University of Valencia, then she moved to London where she did her MSc in Biomedical Sciences at London Metropolitan University. She is currently a Ph.D. student at the Department of Medicine of the Jaume I University of Castellon.
Conrado Martinez-Cadenas studied Medicine at the University of Navarre. After a Master's degree in Biological Sciences at the University of Oregon (USA) and a Ph.D. degree in Human Evolutionary Genetics at the University of Oxford (UK), he is currently a professor of Human Genetics at the Department of Medicine of the Jaume I University of Castellon.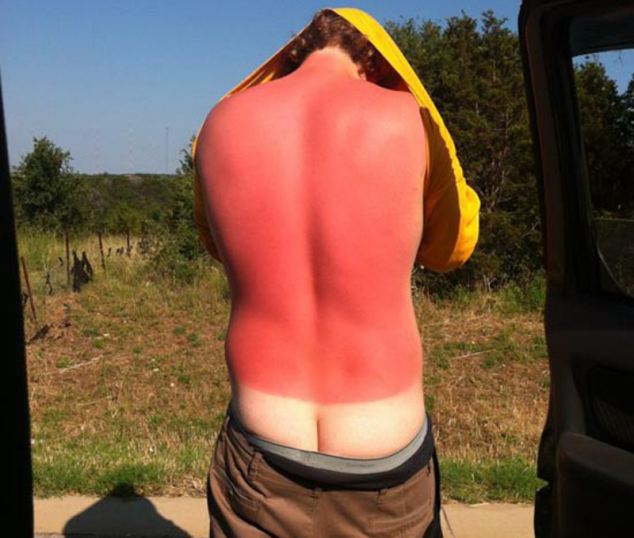 Malignant melanoma is a type of skin cancer that develops from melanocytes (pigment-producing cells), which are located predominantly along the basal layer of the epidermis but also in mucous membranes. Melanomas often develop from moles, for this reason, it's so important to self-recognize any changes in the moles on your body (Figure 1).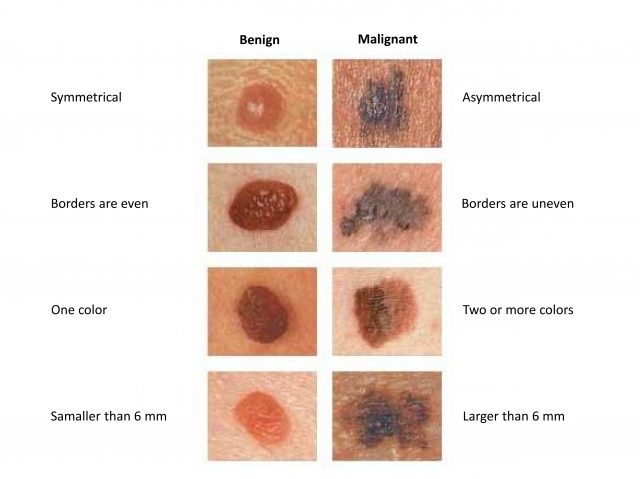 Melanoma is a considerable public health problem, with an incidence that continues to increase among white-skinned populations, especially among people in their 30s and 40s. Indeed, melanoma is the most dangerous type of skin cancer due to its high ability to spread to other tissues in the body.
Risk factors
The predisposition of developing melanoma is dependent on a combination of environmental risk factors, such as exposure of the skin to natural and/or artificial ultraviolet (UV) radiation; and inherited factors, personal genetic variations that define human pigmentation characteristics. Melanoma predisposition is highest in people with many moles, fair skin, blue or green eyes, blond or red hair, and freckles, who never tan and always burn after UV exposure.
Other risk prediction factors of melanoma are old age and male sex. Melanoma is more common in men than in women, who also show a lower risk of metastases and higher survival rates than men. Anatomic location of melanoma also tends to be different between sexes, being most commonly on the lower leg, hip and thigh in women, and on the back, abdomen and chest in men.
Why is it worse for men?
There are marked differences between men and women in the incidence and expression of many diseases. Sex has profound effects on the physiology and susceptibility to disease, as well as in the responses to medical treatment. These sex-based differences in the pathophysiology of disease imply, in turn, that the function of cells and organs depends on their sex, determined by the interplay between the genome and biological and social environments.
Sex differences in melanoma incidence and outcome have been consistently observed in numerous studies. Although there is little information on the sex effect on disease appearance and progression patterns, there have been speculations that biological and behavioral sex differences likely contribute to the sexual disparity in skin aging, pigmentation, UV-light sensitivity, and thus in melanoma incidence and outcome.
In our latest research1, we reveal the presence of sex-specific genetic effects in human pigmentation and sensitivity to sunlight. In fact, more genetic variants presented an association with dark pigmentation or good sun tolerance in women than in men, who were more commonly associated with light pigmentation and high sensitivity to sunlight exposure – risk traits for malignant melanoma (Figure 2). Our results basically indicate that inherited genetic variants might influence human pigmentation and melanoma risk differently by sex, with larger effects for darker pigmentation and better sun tolerance in women compared to men. Importantly, these results are in accordance with a previous finding of our research group, where we pointed out that European men present lighter eye colors than European women even when sharing the same eye-color genetic variants 23. Indeed, a recent genetic study by Kocarnik et al. provided evidence for a potential sex difference in genetic effects for melanoma risk, being higher the risk observed in men than in women, probably through alterations in melanogenesis and pigmentation4.
There are several biological causes that might influence melanoma incidence and outcome between men and women, but the most widely studied mechanism is the impact of sex hormone levels in melanin synthesis – molecule responsible for the color of the skin, hair and eyes, and which protects cells from UV radiation. Males and females differ in the metabolism of and response to estrogens and androgens. Estrogens stimulate pigmentation via activation and expression of genes involved in melanin synthesis, while androgens have an inhibitory effect on melanocytes. A clear example is hyperpigmentation (dark spots, linea nigra, melasma) commonly seen during pregnancy when there is an increase in the levels of estrogen and progesterone (pregnancy-related hormones). Furthermore, estrogens also accelerate wound healing, improve inflammatory disorders, increase skin thickness and protect from skin photoaging.
Behavioral and socio-cultural reasons are other proposed explanations for sex differences observed in melanoma. Men, as compared with women, tend to spend more time outdoors, are less likely to use sunscreen, have a lower awareness of skin cancer risk, are less likely to self-detect their melanomas, and make fewer visits to the dermatologist. However, sex remains an independent prognostic indicator after adjustment for body-site distribution and survival indicators, suggesting that women's sex advantage is independent of the differences in detection or in diagnostic delay between sexes.
Keep calm, take care of your skin and enjoy outdoors!
Further research is needed to better understand human pigmentation and melanoma, with the aim of improving targeted therapies and offering better preventative advice to patients. However, the key to reducing any type of skin cancer is prevention. Protect yourself from the sun's harmful effects before doing outdoors activities, even for a brief period of time, by applying sunscreen and/or wearing sun-protective clothes.