The limitations of drones for medicine delivery
It has been almost a decade since the promises of urban autonomous goods deliveries with Unmanned Aerial Vehicles (UAVs) started. However, the reality came to claim that it was not so easy. Main problems are based on short battery life, low load capacity and high economical cost of the carriage.
Unmanned Aerial Systems (UAS) appeared to be a possible good alternative, though, for deliveries of health equipment (blood samples, vaccines and other medicines) in non-accessible areas (regions with poor road infrastructure), and in temporary efforts during emergencies. The quality of vaccines or blood samples carried by traditional methods and UAVs remains almost the same 1.
For instance, different health material transport initiatives have been tested in Switzerland, United States, Netherlands, Bhutan, Papua New-Guinea, Tanzania, Rwanda, Ghana, Malawi and Haiti, even along with the support of UNICEF, MSF or World Heath Organization [1, 2]. These drones have a load capacity of up to 2 kg, their autonomy is about 30-40 minutes and are able to cover 10 km in 18 minutes at best.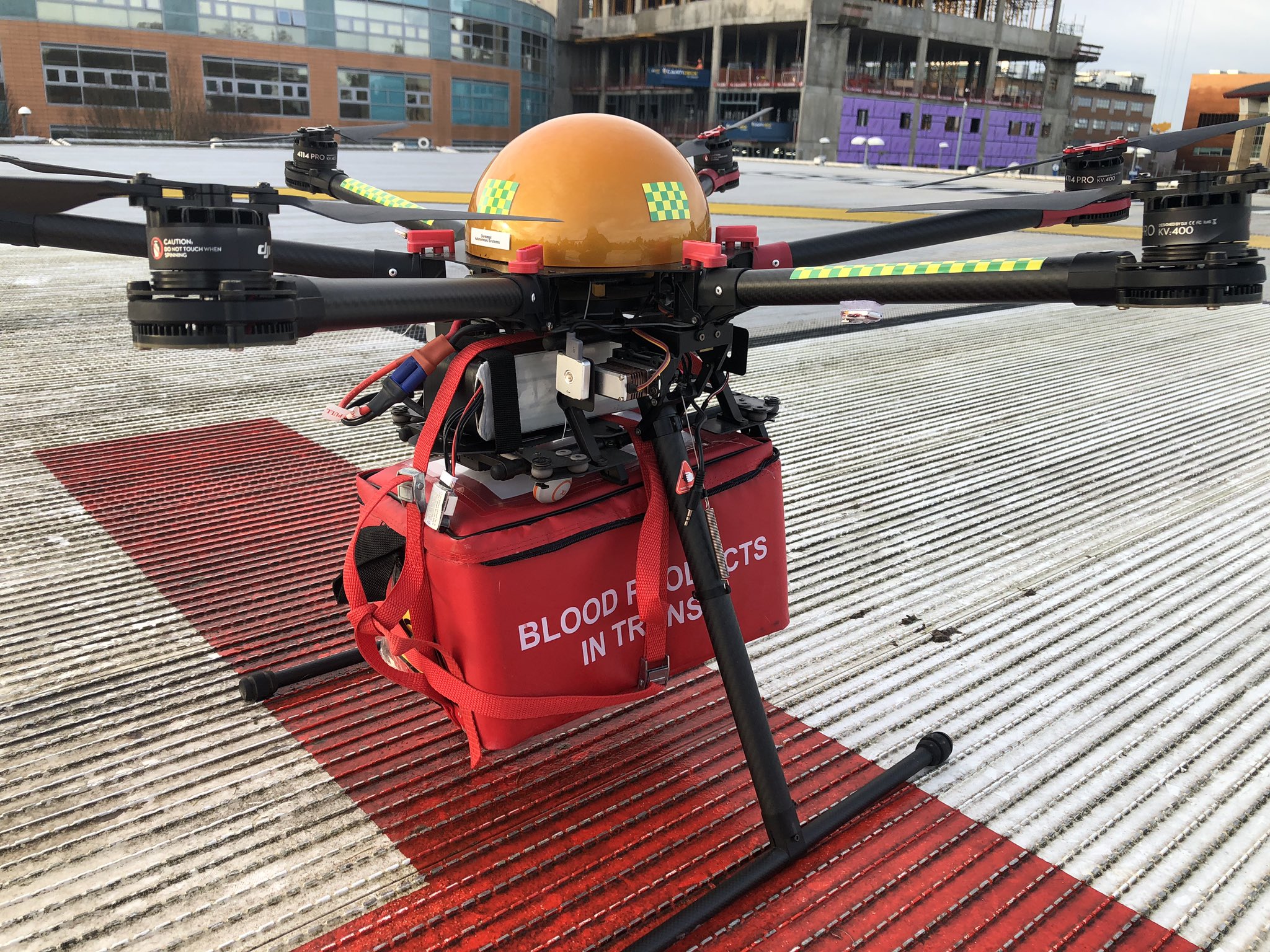 However, there is still scarce empiric evidence of the possible advantages of substituting routine deliveries with UAVs, particularly in African countries with poor road conditions.
The cost of supply-chain logistics in non-vaccine routine immunizations increased dramatically from 2010 to 2020. Some research studies claim the savings in cost of healthcare material deliveries. However, most of these few studies only consider the operational expenditure of the aerial robotic systems against motorbike riders, helicopters, or vans. They do not consider neither the bad weather, extreme temperatures, dust and other boundary conditions that decrease dramatically the UAVs performance.
Moreover, if we take into consideration costs of amortisation, and other sort of expenditures such as training and certification of the drone, insurance, personnel, management, preventive maintenance, accidents or failures, it remains unclear if these technological solutions remain useful substitutes to traditional land-based transport services 2.
As an extra disadvantage, there is still a social rejection due to the repurposed military usage of UAS initially announced as humanitarian tools, as it happened in various African countries 3.
Finally, while Remotely Piloted Aircraft Systems (RPAS) for the transportation of health materials are proved to be time efficient in emergency scenarios in good weather conditions, their potential remains limited by their size and design, meaning they will probably not replace helicopters for larger essentials deliveries, but they will serve as a complement [3].
To sum up, there is still little empirical evidence and experiments that contemplate a wide enough range of boundary conditions and costs in health material delivery with drones. These systems have revealed to be an agile tool for fast transportation and that they keep the medicines properties almost perfect. However, there is still a long time until they completely replace traditional the delivery of medical products both economically and in load capacity.
References
Haidari, L. A., Brown, S. T., Ferguson, M., Bancroft, E., Spiker, M., Wilcox, A., & Lee, B. Y. (2016). The economic and operational value of using drones to transport vaccines. Vaccine, 34(34), 4062-4067. ↩
Ochieng, W. O., Ye, T., Scheel, C., Lor, A., Saindon, J., Yee, S. L., & Karem, K. (2020). Uncrewed aircraft systems versus motorcycles to deliver laboratory samples in West Africa: a comparative economic study. The Lancet Global Health, 8(1), e143-e151 ↩
Emery, J. R. (2016). The possibilities and pitfalls of humanitarian drones. Ethics & International Affairs, 30(2), 153-165. ↩