On the origin of carnivorous plants: the oldest fossil found in Baltic amber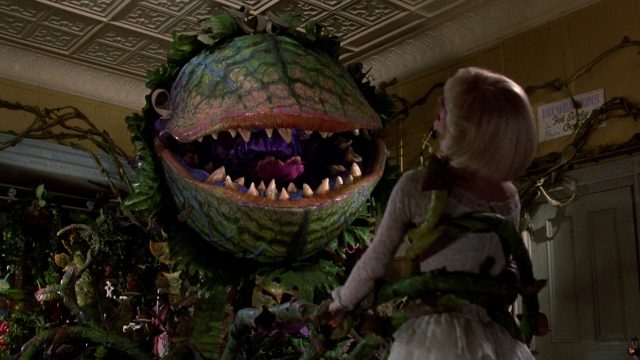 The cover of this post probably shows the world's most famous carnivorous plant (Figure 1). It´s name is Audrey II and it appeared in the music film "Little shop of horrors", directed by Franz Oz in 1986 adapting the film "The Little Shop of Horrors" directed by Roger Corman in 1960. Audrey II is a carnivorous plant that eats blood and humans to grow. In the 1986 version Rick Moranis played the role of Seymour Krelborn who discovers Audrey II in a Chinese shop during a solar eclipse and it happens that this plant is an alien coming from the outer space. But in real life where do carnivorous plants come from, do they also come from a galaxy far, far away?
Charles Darwin in the book "On the Origin of the Species" published in 1859 established that all species have descended from common ancestors through adaptation to the environment by means of natural selection. Darwin was amazed by carnivorous plants naming them "the most wonderful plants of the world " and wrote an Insectivorous plants book in 1875 providing detailed descriptions of eight genera that were able to trap insects.
Thanks to the photosynthetic process, plants have the ability to grow just with light, CO2 and O2 that they acquire from the atmosphere and water and mineral nutrients that they get from the soil, being nitrogen usually the more limiting of those nutrients. Amazingly, some plants have acquired the capacity to obtain those nutrients not only from the soil but also from animals, insects specifically. Carnivory is an energetically expensive process for plants compared to photosynthesis, but it is largely reasonable in environments limited in macroelements such as mountains slopes, peat bogs, swamps, rocks, etc. where being carnivore make sense. Thus, carnivorous plants represent one of the most beautiful examples of the power of evolution. Carnivory has evolved independently at least six times in five angiosperm orders, but they show high degree of morphological and physiological convergence across taxa. Today, to consider a plant as carnivorous it must be able to absorb nutrients from dead bodies and to do it they have different strategies goring from traps to sticky tentacles or passive pitfalls. And today more than 700 species of carnivorous plants have been described.
Molecular phylogenies have estimated the origin of carnivory between roughly 8 and 72 million years ago (Mya). In the article recently published by Sadowsky et al.1, a german team led by Professor Alexander Schmidt from the Department of Geobiology of the University of Göttingen, Germany, found the world's ancient fossil of a carnivorous flypaper trap plant representing one of the very few undoubted fossils of carnivorous plants and the only one of carnivorous plant traps. This research team found two tiny linear-lanceolate leaves of 5 and 4.5 mm long and 0.2 mm wide at the base preserved in Baltic amber near Kaliningrad (Russia). The amber-bearing sediments of these leaves date to 35-47 Mya. These leaves possess two types of trichomes (hairs on plants): tentacles and non-glandular glassy trichomes. Interestingly stack to the tentacles heads the researchers found organic remains indicating the secretion of a sticky substance. These characteristics allowed identifying these remains as part of an ancient member of the Roridulaceae family (Figure 2).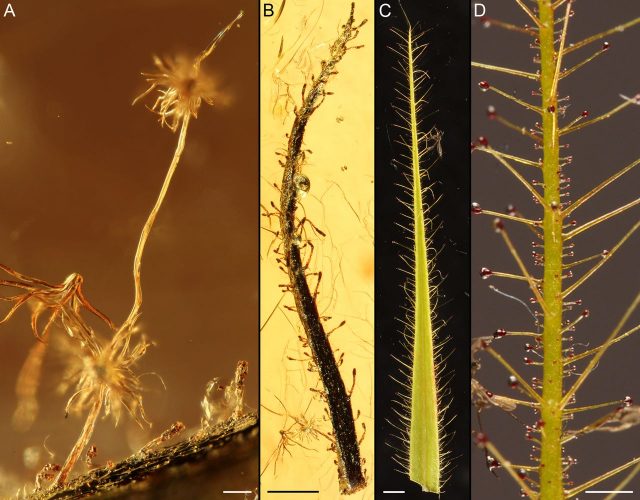 Roridula is an unusual carnivore since they can´t directly digest the insects. In fact, certain hemipterans are able to live in the glandular hairs of Roridula and they eat the preys that have been successfully immobilized by the plant. Afterwards, the plant is able to get N from from their excretions, being able to obtain up to 70% of its N in this way (Figure 3). This kind of complex digestive mutualism may occur in other carnivorous as some species of Nepenthes 2.
Today Roridulaceae family is endemic to the Cape Flora in South Africa, thus the finding of this fossil in Russia amber implies a far wider distribution of this family of plants during Eocene (33-58 Mya) and provides an outstanding new clue towards the paleobiogeography of Roridulaceae in particular and carnivorous plants in general (Sadowski et al., 2015)
References
Sadowski E.M., Friederike Sadowski, Andreas Fleischmann, Hermann Behling & Alexander R. Schmidt (2014). Carnivorous leaves from Baltic amber, Proceedings of the National Academy of Sciences, 112 (1) 190-195. DOI: http://dx.doi.org/10.1073/pnas.1414777111 ↩
Givnish T.J. (2014). New evidence on the origin of carnivorous plants, Proceedings of the National Academy of Sciences, 112 (1) 10-11. DOI: http://dx.doi.org/10.1073/pnas.1422278112 ↩