Word or LaTeX typesetting: which one is more productive? Finally, scientifically assessed
One of the main goals for anyone in the Academia, for any research group, is to publish the results of their research. Therefore, enormous amounts of time and effort are devoted to producing manuscripts which will be evaluated for publication in scientific journals or international conferences. Being this goal so central to the career of many people, it is more than reasonable trying to employ the right tools to achieve the best results in writing, measured in terms on quality vs. time devoted to writing.
We can take for granted that the reader knows Microsoft Word, but perhaps some of you are not familiar with that LaTeX thing. LaTeX (yes, it is always capitalized like that) is a sort of "programming language", a markup language actually, pretty much like HTML. So, if one want to write a bold sentence, instead of selecting with the mouse and clicking, one must type a specific command around the sentence. The same applies to any other document element: images, tables, section headers, etc. there are commands that must be memorized for every element. It may seem cumbersome. Indeed, it is. It is really cumbersome, at the beginning. I stillr remember how much I protested when a Professor forced me to elaborate an assignment in LaTeX during the PhD courses. But once one overcomes the (steep) learning curve of LaTeX, the realization of its advantages means that there is no turning back:
Mathematical equations of unbeatable quality.

Easy generation of all kind of indices, bibliography, cross references, etc.

It allows you to focus on the text content, instead of its appearance. In theory, a text prepared according to the guidelines of a specific journal may be made to fit another's style by just using one external style file. In practice, sometimes one finds some incompatibilities, but in all cases it is orders of magnitude faster, cleaner and easier than manually changing all the formatting details in Word.
At least, these are the advantages that we, part of the researchers, see in LaTeX: the call to pick among Word or LaTeX has become one of those endless, "religious" discussions. One support one or the other just like people support different football teams.
But finally here comes a space for objectivity in this debate. A group of researchers on Experimental Psychology from the University of Giessen (Germany) has addressed the problem by measuring the pros and cons of each typesetting system 1. Next we summarize the experimental setup and their findings.
The tests
The experiment consisted in asking a group of volunteers to typeset a number of texts using either Word or LaTeX, provided they had 30 minutes to end the task. In order to characterize the performance for all kinds of texts, the researchers proposed three different texts: (1) a long, continuous text, (2) a text with some tables and (3) one plenty of equations (as one typically found in Mathematics, Physics, Engineering…).
Regarding the volunteers, they were 40 users selected such that there were 10 experts and 10 novices in each typesetting system (Word and LaTeX). The intention was determining whether the efficiency improved or not as users gain experience in each system.
Afterward, the researchers measured the amount of typeset text and the number of mistakes. Text length was such that only about 90% of experts could type it entirely. Ah! The motivation of volunteers was boosted by means of prizes of up to 150€ for the best one in each category.
The results
We start with the manuscripts comprising just long blocks of continuous text, in which is clear that Word is unbeatable: even the (relatively) novice Word users perform really far better than LaTeX users in both, the quantity and the quality of the typeset text. Regarding the existence of orthographic errors, we must highlight that LaTeX users were allowed to use their favorite IDE with any desired plugin or additional tool, thus their errors cannot be attributed to the intentional privation of any of those helps.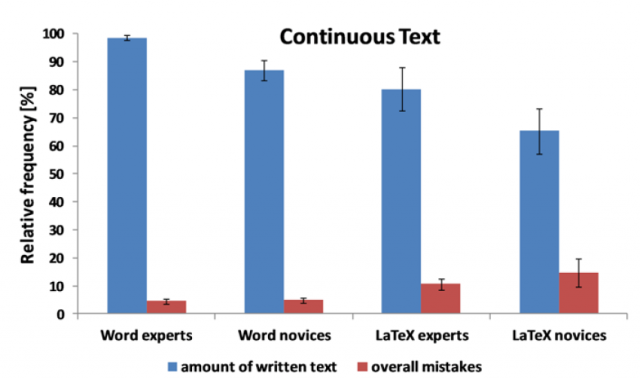 Regarding table editing, Word wins again… and this is not big news to anyone who ever tried to enter a table in a LaTeX document. How can something so easy in a WYSIWYG editor and so incredibly complex in LaTex? How many visits to TeX – LaTeX Stack Exchange does it take to create a decent LaTeX table?
As can be seen in Figure 3, the study found that it is not only less efficient to typeset tables in LaTeX, but that the number of mistakes skyrocketed as well. However, the large standard deviation in LaTeX mistakes reveals that it is possible to make it right… but there are so few people capable of such an achievement!
And finally we get to LaTeX comfort zone: texts with plenty of equations. In this last experiment, it is demonstrated that even untrained LaTeX users make fewer mistakes and are more productive than expert Word users.
Apart of measuring the efficiency of typesetting in such an objective way, the researchers also asked the volunteers to fulfil a usability questionnaire (results shown in Figure 5), from which we must highlight the emotional aspect: LaTeX users claim to enjoy much more than Word users while writing (5.2±1.4 vs 3.6±1.7), while also reporting feeling less frustration and tiredness.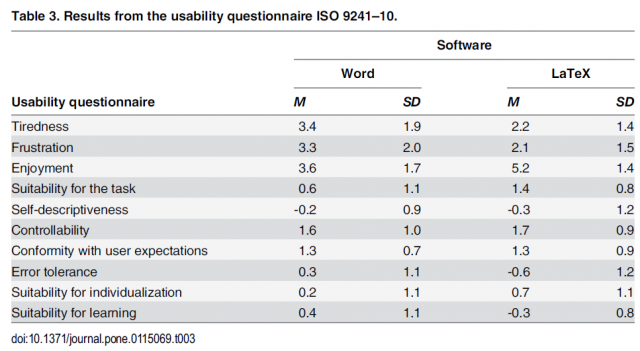 These findings are coherent with the well-known popularity of LaTeX among researchers of the more technical areas, where writing equations is typically a significant effort if attempted to do in Word. I would like to remark (making clear that this is a subjective opinion) that aesthetics is another important factor: Word equations are far less "elegant" than those obtained from LaTeX, which "look" totally professional.
Quantitatively, we can point out another work 2 which asked the Editors of several Scientific Journals for the prevalence of each format in received manuscripts. They found that LaTeX rules in the areas of Mathematics (97%), Statistics (89%) and Physics (74%), then followed by the group of Computer Science (46%) and Astronomy-Astrophysics (35%), with the rest of areas totally dominated by Microsoft Word.