Permanent excimer-like colloidal superstructures as anticytotoxic agents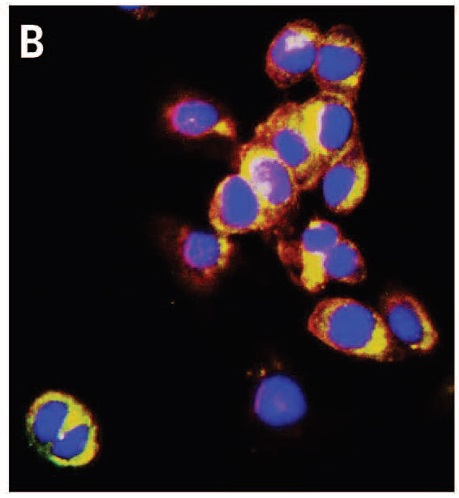 A chemical compound or molecule consisting of two identical simpler molecules is a dimer. If one of the simpler molecules is excited while the other is in its ground, non-excited, state we talk about excimers. They are excited dimers which are non-bonding in the ground state.
Thus, excimers can be considered evanescent quasi-particles that typically form during collisional intermolecular interactions and exist exclusively for their excited-state lifetime.
Now, a team of researchers that includes the late Jon Mikel Azpiroz, from Kimika Fakultatea (UPV/EHU) and DIPC, publish in Science 1 that they have exploited the distinctive structure of metal quantum clusters to fabricate permanent excimer-like colloidal superstructures. These structures are made of ground-state noninteracting gold cores, held together by a network of hydrogen bonds between their capping ligands. In vitro experiments demonstrate the suitability of the superstructures as nonresonant intracellular probes and further reveal their ability to scavenge reactive oxygen species, which enhances their potential as anticytotoxic agents for biomedical applications.
An important length scale in solid state physics is the Fermi wavelength, that is the wavelength of the electrons that carry the electric current. This length is important because the wave nature of electrons can give rise to macroscopically observable phenomena only when the dimensions of the sample are comparable with this wavelength. With "magic" sizes dictated by the valence of the metal constituents and dimensions approaching the Fermi wavelength of the electron, metal quantum clusters bridge the gap between atoms and colloidal nanoparticles.
These few-atom structures are functional nanoscale materials with potential for use in sensing, bio-imaging, optoelectronics, and nanomedicine. As a result, metal quantum clusters combine a molecule-like electronic structure with quantum confinement effects that confer them with size and shape-tunable optical properties, ultralarge surface-to-volume ratios, and unmatched flexibility for tailoring their physical properties through surface functionalization.
Intercluster interactions play an important role in the photophysics of metal quantum clusters. Thus, a supramolecular strategy might be used for tuning their optical properties through controlled formation of aggregate species, similarly to what is achieved with organic chromophores.
On the other hand, molecular excimers are typically formed through collisional interactions between monomers in concentrated solutions, and their formation probability drops to zero upon dilution. The excimer motif is, therefore, intrinsically prevented from being used for the fabrication of stable, self-standing emitters for single-particle applications.
What the researchers have done is to overcome this limitation by demonstrating a previously unknown aggregation state of matter that conveys the photophysics of excimers into individual particles made from metal quantum clusters, that can find application as nonresonant emitters in cellular imaging and integrated photonic nanotechnologies.
They used Aun (gold quantum clusters consisting of n atoms) as building blocks for fabricating permanent excimer-like colloidal superstructures (Au-pXs) held together by a network of hydrogen bonds between their capping ligands. As a result of repulsive forces between the metal cores, in the ground state, the networked Aun behave as independent chromophores, whereas on photoexcitation, they form bimolecular excimers.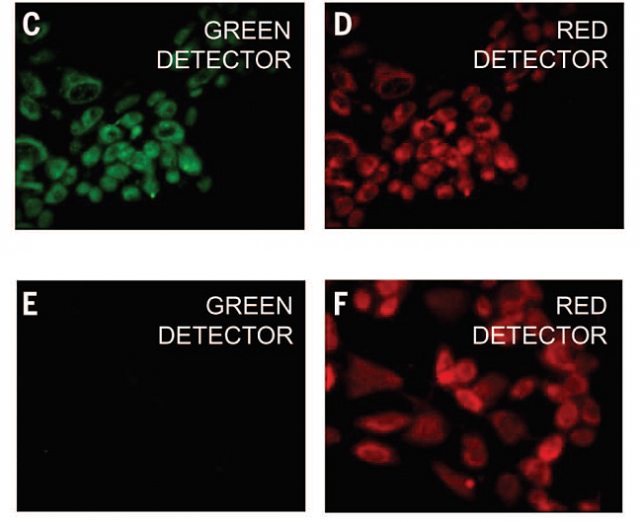 The researchers then used Au-pXs for in vitro imaging of fibroblast cells. Data reveal the high biocompatibility of Au-pXs and their ability to scavenge reactive oxygen species responsible for premature cellular death, thereby further enhancing their potential for biomedical applications.
This approach is not size- or composition-specific and could be applied to different metals or alloys, allowing the realization of permanent excimeric superstructures with predesigned optical and electronic properties.
Author: César Tomé López is a science writer and the editor of Mapping Ignorance
References
Beatriz Santiago-Gonzalez, Angelo Monguzzi, Jon Mikel Azpiroz, Mirko Prato, Silvia Erratico, Marcello Campione, Roberto Lorenzi, Jacopo Pedrini, Carlo Santambrogio, Yvan Torrente, Filippo De Angelis, Francesco Meinardi, Sergio Brovelli (2016) Permanent excimer superstructures by supramolecular networking of metal quantum clusters. Science doi: 10.1126/science.aaf4924 ↩