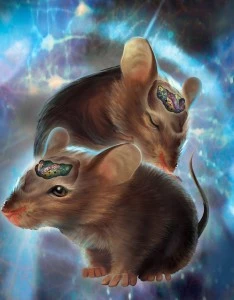 A switch for internal, external brain processes
Researchers have observed how the brain switches between internal and external information processes in mice. Scientists manipulated thalamic reticular nucleus cells to get the mice to switch information systems. Researchers hope the study could lead to treatments for people with autism or schizophrenia, whose brains have difficulty with the switching mechanism.
Plants able to communicate on genetic level
Plants may converse with each other on a genetic level. Researchers have discovered an exchange of RNA between the parasitic dodder and its host plant Arabidopsis, in which the dodder may be urging the Arabidopsis to share its nutrients.
Mummification practices started earlier in Egypt than previously thought
The ancient practice of mummification has been around longer than previously thought. Researchers have found evidence that a form of mummification was in use more than 6,000 years ago, finding embalming substances in funerary textiles from as early as 4,300 B.C, corresponding to the prehistoric Egyptians, who lived in a tribal society 1,000 years before the invention of writing.
Crayfish make new brain cells with their blood
Crayfish can grow new brain cells from their blood, creating neurons to replenish their eyestalks and smell circuits. Scientists tagged DNA in crayfish blood and placed it into a different crayfish, eventually tracking the reprogrammed DNA to new brain cells in the receptor crayfish. Researchers as yet don't know how the process works.
Ultraviolet light missing from the universe
A large amount of ultraviolet light seems to be missing from the universe, and scientists don't know why. Researchers, using computer simulations and observations from the Hubble Space Telescope, found that the light from known quasars is five times lower than what they expected.